I love this statement! Over the last few years on my journey to discover AUTHENTIC SUCCESS it has become quite clear to me that this is very true. Once you are clear on what you are here for (or at least taking the first steps towards it) and what your vision is, you become MORE of who you ALREADY ARE!
I spent years traveling and going to seminars 'trying' (trying the word itself implies failure so eliminate from your vocab!) to find me! It was a long and expensive quest and reminded me of a story that Napolean Hill told years ago about Acres of Diamonds. To cut a long story short (apparently its based on a true on) a diamond hunter bought some land and dug and drilled for many years in the hope of finding diamonds. Finally after so much blood, sweat and tears and searching almost all his land. He gave up hope, sold up and moved on. The new owner set to work and was also convinced wealth and diamonds were not far away. Within a short period of time, he found the hoard of diamonds in the rocks below the house! So all those years the other guy was searching, it was RIGHT UNDER HIS NOSE!
In my own journey, it has been a similar fable. I was always looking for outside approval, for the answers OUTSIDE of myself, when all the time, the approval, safety and control (particularly around childbirth!! : ) ) were in my OWN MIND and HEART. I am very proud to be a published WRITER, a speaker and mentor and to be doing something I enjoy that HELPS OTHERS TO DO THE SAME. I recently did at Talk at Top Carrot with a book signing (thanks Lydia and Peter – Josveek, Jane and Mimi!) and I'd put it down in my goals ages ago that I wanted to make contact with the Prime Minister, Sarah Westcott-Williams. I composed an email and sent it off. To my amazement (as she is super busy) she attended, with a smile, grace and poise. I was very honoured to have her there and look forward to assisting her move the population forward!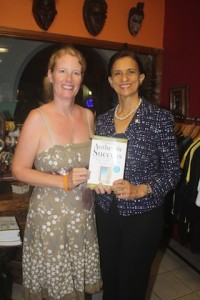 The event also brought some great coverage from local paper in English and French! So I was pleased the message is getting diffused! Yay!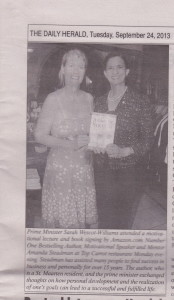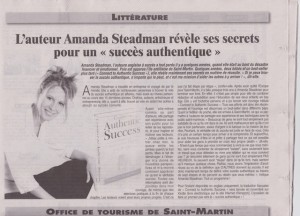 Since then I am planning to support Arts Saves Lives Foundation (http://artsaveslivesfoundation.org/ ) with Nicole de Weever and also the Positive Foundation (on Facebook/positive-foundation) in the near future. I attended the Arts Saves Lives presentation of their summer cap 2013, and it was very moving and incorporated many of the themes from my book 'Connect to Authentic Success'. Nicole and her team performed miracles with the students from the programme and I look forward to getting to know them all better!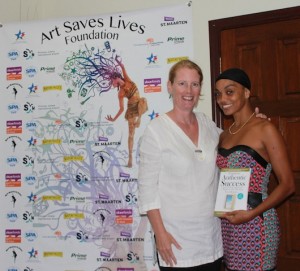 There will be another 'talk' in Philipsburg Jubilee Library on October 28th at 6pm called 'Success Session' where you will get a chance to be interactive if you wish and leave feeling inspired, clear and motivated to achieve your dreams : ) "Life isn't a dress rehearsal so ENJOY and BECOME MORE OF WHO YOU ARE MEANT TO BE!
Until then!
Amanda x
PS I'll be donating 10% of proceeds from the evening to Positive Foundation in aid of preventing BREAST CANCER as its breast cancer awareness month, so do come along!
PPS for those of you joining the Mentoring Programme on 14th, you will get a copy of the video of this and the first success talk on 23rd Sept ; )