Top Carrot is the place to be on Monday 23rd Sept for the SXM Connect to Authentic Success Paperback Book Launch…no Kindles in sight today! ( I still love you Kindle)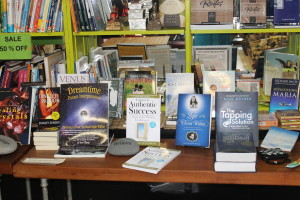 It is time again to get into launch mode! The Kindle Version did very well and now its the paperback version! I have had more of a local rather than international focus for this one. I see a real need for this information across the borders here so will be preparing a talk, geared about the key messages from the book and honed to the audience. I am very lucky to have the support of Top Carrot, a fantastic centre for positivity, healthy food and great vibes. Thanks Lydia! A launch is a team event so ensure you are giving as much back as you can to those who support your dream!
I've done some interviews and press releases (still mastering those! If you need help here is a very basic template to get started! http://www.bmyers.com/public/541.cfm )
Luckily I seem to have acquired many contacts and as I always do my utmost to help others move forward and connect with the people they need to, what goes around comes around and I am pleased to say the coverage has been pretty good this time around! You learn a little every time!
So in my mind, my objective is to get the message out to as many people as possible that life can be as fabulous as you want to be. Getting book sales are a bonus to me. I know for some people this is the total focus, but for me it's the Ripple Effect that you can have from ONE talk and the ongoing impact from applying the knowledge in the book. If one person changes their outlook, they in-turn affect those around them..so it's very powerful.
Life is very simple if we want it to be. I chose a very simple launch with:
a local book signing and talk
choose a venue that is spot on for your audience and who you can also promote and assist to get more business
invite key players relevant to your book/audience
radio interviews
posters locally (designed myself)
press releases
editorials
video
event created on Facebook, invite people
posting on Pinterest, Facebook, Twitter, & . Linked In
personal emails
phone calls
reminder texts on the day
prize Draw at the event
I haven't used Facebook advertising this time, nor guest blogged ( I will do this after the Live Event!) I know it sounds a lot but once you have done it once it is like a template! If it is your first time, I appreciate the list may look long, however you have to start somewhere and allow at least 2-3 weeks for a mini one and 6 weeks for a larger campaign if you want to pace yourself! Pick whatever launch ideas you are most comfortable with and start there. Anything else, if you have the budget and don't want to do it – outsource it! For those of you that are interested in how to get your book done in Kindle and become and Amazon Best Seller I will be running a course on this very soon so watch this space and contact me via amandasteadman.com : )
Other items like interviews, you will have to do yourself! Luckily I LOVE interviews and speaking publicly so it will be a pleasure to be interviewed by THE SOC at Island 92 Radioon Monday  : ) I popped in to see him at work and invite him to the event! He kindly squeezed me into his busy schedule whilst he was helping listeners! How happy are we? Well, it is the friendly island!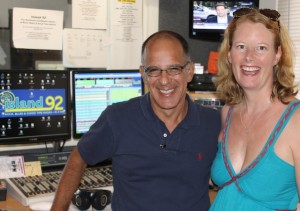 It is all good fun but at the end of the day the MOST IMPORTANT part is the INFORMATION and MESSAGE you are communicating to your tribe! What are THEY going to get out of it and HOW can you help them? If you can do this in an entertaining, authentic and content-rich way. Then you are well on your way to success and by helping others achieve theirs!
YAY!
Have a FANTASTIC DAY
Amanda ; ) x
Link to Live Launch Event: https://www.facebook.com/events/498127363609851/